Faciliteiten
Parenclub le Baron is sinds 2002 geopend en gelegen in Heerenwaarden nabij de A2 afslag Zaltbommel.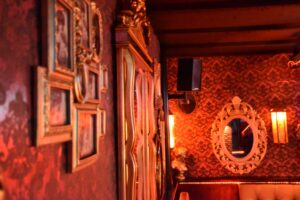 Vanaf dag 1 is de club een begrip binnen de swingers- en erotische datingscene, evenals bij de erotische stappers. Bij ons is een ieder welkom die een gezellige dag of avond erotisch wil genieten: stellen, singles (zowel dames als heren), Alles mag en alles kan.
Vooral de single dames en heren die ongecompliceerde sex fantasieën willen laten uitkomen, zonder daarna aan elkaar "vast" te zitten, nemen 't ervan.
Stellen die alle parenclubs al gezien hebben en echte actie willen zijn aan het goede adres. Ook gasten die de spanning willen ervaren maar verder niet actief zijn, zijn van harte welkom.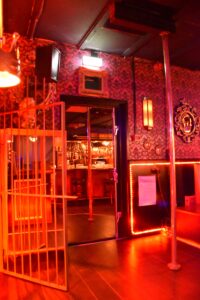 We hanteren geen dresscode maar merken dat sommige gasten dit wel spannend vinden: kan allemaal, hoeft zeker niet. Bij binnenkomst even lekker aan de bar zitten en gezellig contacten leggen met de andere gasten, of met het altijd gastvrije barpersoneel. Genieten van de muziek die voor elk wat wils is , voor jong en oud en eventueel een dansje. Uiteraard beschikken we over een aparte rookruimte. Spannende kamertjes met afsluitbare deuren en volop gluurmogelijkheden zorgen voor een aparte sfeer. Ruim voldoende netjes en hygiënisch. Douchegelegenheden zijn op diverse punten in het pand voorhanden met uiteraard beschikbare handdoeken van de zaak.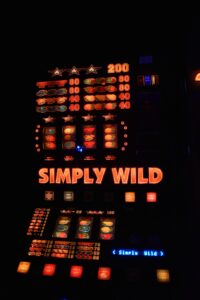 Als u een gokje wil wagen dan kan dat, maar ook kunt u lekker ontspannen een erotisch filmpje bekijken.
In ons restaurant kan men even bijkomen van alle inspanningen en genieten van het uitgebreide warm en koud buffet die de chef voor u serveert. Hiervan mag u onbeperkt genieten zoveel u wilt, zoveel u kunt en dat allemaal gratis/inbegrepen in ons concept!
Of anders even lekker bijpraten op de terrassen voor een schepje buitenlucht. Bij lekker weer serveren wij een heerlijk barbecue buffet geheel gratis/inbegrepen en onbeperkt!
Kom het zelf eens beleven, wij zullen je warm verwelkomen.